Hardik Pandya IND vs PAK: On the basis of Hardik Pandya's all-round performance, India defeated Pakistan by five wickets in their first match in the Asia Cup. In this match, apart from taking 3 wickets, Hardik played an unbeaten inning of 34 runs.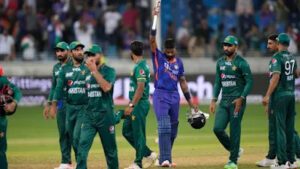 The Indian team avenged the defeat in the T20 World Cup by defeating Pakistan by 5 wickets in the Asia Cup 2022 match. Batting first, Pakistan had scored a total of 147 runs for the loss of all wickets. India made a winning start in the tournament by losing 5 wickets in 19.4 overs to win the match against Pakistan. Hardik hit the winning six. Apart from taking 3 wickets, Hardik Pandya, the hero of this match, scored 34 runs in 17 balls in a stormy manner, while Ravindra Jadeja was dismissed after scoring 35 runs in 29 balls. On the other hand, Bhuvneshwar Kumar took a total of 4 wickets.
PM Modi congratulates India on victory through a tweet

KL Rahul is out in the first over
The Indian team came out chasing the target of 148 runs, India's start was not good. Debut star Neesam Shah clean bowled KL Rahul on the second ball of his first over. Rahul did not fully understand the ball coming in and dodged it. By the time KL Rahul could understand something, he took the ball to the bails. In this way, the Indian team lost its first wicket at the score of one run. For some time from here, Rohit Sharma and Kohli together took the team to 50 runs.
Rohit and Virat got out in the same way
Virat Kohli seemed to be in rhythm, but captain Rohit was seen struggling. However, before being dismissed by Nawaz, Rohit Sharma hit a big six. He was again trying to take the pressure off with a big hit but was caught by Iftikhar Ahmed. He scored only 12 runs in 18 balls. In the next over, Virat Kohli was caught by Iftikhar Ahmed on the ball of Mohammad Nawaz. Virat Kohli scored a total of 35 runs for his team in 34 balls with the help of 3 fours and a six.
Hardik Pandya and Jadeja took charge after Suryakumar Yadav was out
Suryakumar Yadav, considered a sensation of the current era, started well but was dismissed after scoring just 18 runs in 18 balls. After this Ravindra Jadeja and Hardik Pandya played well and took Team India to victory. Jadeja, however, was dismissed after playing a total of 35 runs in 29 balls with the help of 2 fours and 2 sixes. Hardik Pandya did not lose his patience and gave India a spectacular victory by hitting a six in the last over with his wisdom.
Bhuvneshwar Kumar and Hardik broke Pakistan's dream of victory
India defeated Pakistan on the basis of the brilliant bowling of Bhuvneshwar and Hardik Pandya. The team was all out for 147 runs. Indian captain Rohit Sharma won the toss and decided to bowl first, which was proved right by the bowling of Bhuvneshwar Kumar and Hardik Pandya. Bhuvneshwar Kumar took 4 for 26 in his four overs, which included the prized wicket of Pakistani captain Babar Azam (10 runs). Hardik Pandya took three wickets for a total of 25 runs in four overs. Indian team's young fast bowler Arshdeep took two wickets for 33 runs.
Fast bowlers took all 10 wickets
This was the first experience of young fast bowler Arshdeep Singh playing in an India-Pakistan match. The fast bowlers took all 10 wickets for the India team. Bhuvneshwar Kumar's first over was not good in which two DRS decisions went in favor of Mohammad Rizwan of Pakistan. Rizwan scored 43 runs in 42 balls, four balls later, Rizwan was caught behind the wicket but Rizwan had good luck, after seeing the 'ultra edge', the decision was in his favor.
The fall of wickets started with such Pakistan players –
In the opening spell, fast bowlers Bhuvneshwar Kumar and Arshdeep Singh took full advantage of the help from the pitch. In which Bhuvneshwar gave a bouncer to Babar in the second over and in an attempt to play a pool shot, he was caught by Arshdeep at short fine leg. India brought in Avesh Khan as the third fast bowler and he gave India another breakthrough in his very first over. Mohammad Rizwan played well and hit six and four but on the fifth ball, Avesh Khan caught Fakhar Zaman behind the wicket in the hands of Dinesh Karthik, Dinesh Karthik has been replaced by Rishabh Pant in this IND vs PAK big match on the basis of experience.
Fakhar Zaman walked on his own
In the noise of the spectators, the Indian players did not hear the sound of the ball hitting the bat but Fakhar Zaman himself left the field. At this time Pakistan's score was 43 runs for two wickets in six overs. Mohammad Rizwan added 45 runs for the third wicket with Iftikhar Ahmed (A total of 28 runs in 22 balls). Hardik Pandya dismissed both batsmen to prevent Pakistan from making a big score. After this, he also dismissed Khushdil Shah on another short ball. For Pakistan, the last number 11 batsman Shahnawaz hit two sixes against Bhuvneshwar and Arshdeep in the last two overs to take the team to 150. India took five wickets in the last five overs but also gave away a total of 45 runs.
Follow us on Google News to read the Latest news related to cricket and other sports.