Indian cricket team's legendary batsman KL Rahul has
given a big reaction to playing in the three-match ODI series against Zimbabwe.
He has said that he was coming back from injury and that is why the Zimbabwe
series was very important for him.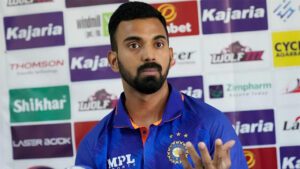 KL Rahul has not played a single T20 match for India
this year. He was set to play in the home T20 series against South Africa but
had to be ruled out due to injury. He was out for a long time due to frequent
injuries and made a comeback from the ODI series against Zimbabwe. Against
Zimbabwe, KL Rahul batted in two innings but he did not seem to be in full
swing.
Zimbabwe series boosted my confidence – KL Rahul
On the other hand, KL Rahul believes that this series
of Zimbabwe was very important for him. It showed him how fit he was and it was
very important to get into the rhythm. During the press conference before the
start of the Asia Cup, he said,
Personally, it was great for me to go to Zimbabwe and
play those three matches. It showed how well I had recovered. No matter how
much time you spend with the physio in the academy, the feel of the game is
different. There the pressure is different and when you play in the field then
your confidence increases and that is the best way to judge yourself. Having
played in Zimbabwe, I came to the Asia Cup with better confidence. I don't
judge myself by the practice I do in the nets, but I want to challenge myself
on the field. There are many great teams playing in the Asia Cup, so we will be
facing a tough challenge.